We slept in till 9:15 then hit the free breakfast up just before it closed at 9:30. We slowly got ready and hit the road by 11am. We were back on 35 and heading south. 
The car did not need to be back until Sunday at noon and we never wanted to honeymoon to end so we picked Des Moines and headed there. It was a few hours from KC so we could get back early enough to get the car in on time and far enough away that we were not likely to go to Des Moines on a regular basis.
The drive was fairly uneventful until lunch. Then we stopped at an exit with one of my favorite cheeseburger stores.
We got the 2 bacon cheddar melt burgers for $3 and a meal of the Angus thickburger and split both. The food was really good. We drove on and stopped at a rest stop sometime in the afternoon for a pee break. While waiting for Heath I saw some paper container w/ pamphlets full of hotel coupons. We got a few and while driving Heath looked through and found hotels in Des Moines.  I knew the exit I wanted to stay at from some research online where we would be walking distance from a brewpub restaurant.  Heath found a Ramada w/a coupon at the exit and we headed there.
The place looked really nice from outside and had a pool.
We booked our room and carried our stuff up. The host was kinda strange or just learning English but I know he said pool side and the room number was on the parking lot side.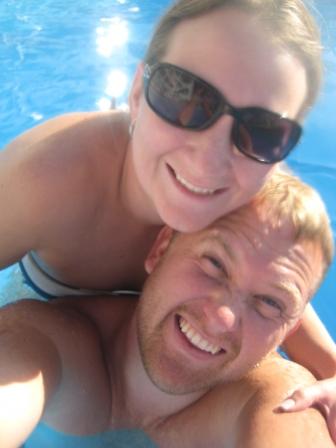 Well we found the right number but the keys did not work.
I left Heath and the bags and went back down stairs.  He assured it was the right number and he had just said the wrong side so he rescanned the cards. I headed back up and they still did not work. He tossed the cards and got me two new ones made up. I tried them out and still could not get in. So he sent up some custodian guy to help. He proved the cards did not work and neither did his master key card. We waited by the room and he ran to get some tools or something. We decided to make the best of it and crack a beer.
It was transitioning from afternoon to evening and out pool tanning time was about over. He got some stuff that looked like it was from a spy movie and eventually opened the door then got it reprogrammed for us. We filled up some glasses with drinks and headed down to the pool. It was kinda nice to swim in chlorine and clean out any injuries and such. Of course it made my nose bleed after 15 minutes or so and I had to get out but we did get some good camera sack use first.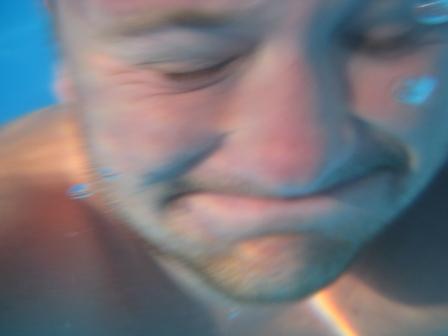 We showered after the pool and starving headed to the Brewery. It was a lot like 75th Street Brewery and had good food and beer. I got some rib and chicken platter and Heath got smoked chicken enchiladas. Both were great. They gave us each 2 free sampler beers then we each got 2 full regular beers and everything to drink was tasty. Even the food was marinated in their beers.
We decided to go to a K-mart down the street and kill an old gift card on a shirt for me then went to a outdoor gear store and look around. I got a new swim suit ($11) and water shoes on clearance ($15). Then we headed back to the room and were too stuffed to get motivated for much else but sleep.
The next day we got up early ate and drove the car back getting in at 11:45 and beging the 2nd 1/2 of our vacation at home w/ Peanut.