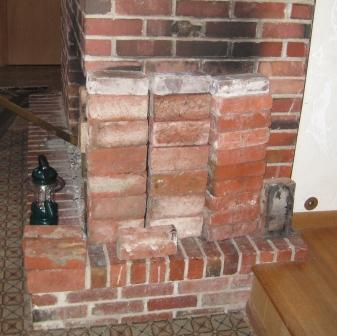 I didn't have a good pic for the beginning or title so just read on.
After work I got some fish out of the fridge and put them in some warm water to continue to dethaw. I cut up some lettuce, tomato, onion and green pepper and waited for Heath to come home.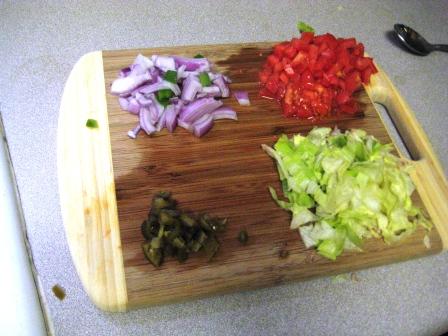 She got home and we looked through mail, opened a late wedding present and then Heath broke out the new blender and some mix Amanda left and we had a drink.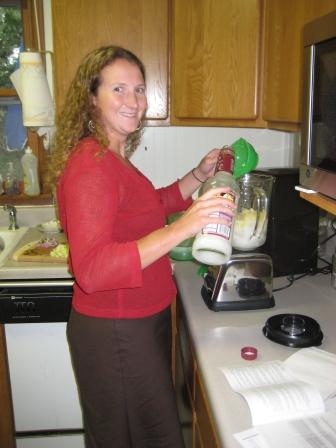 While the fish was thawing we started the Pilot episode of Sons of Anarchy (The Shield Replacement).
At the first commercial we got the fish ready and tossed them in the toaster oven to bake.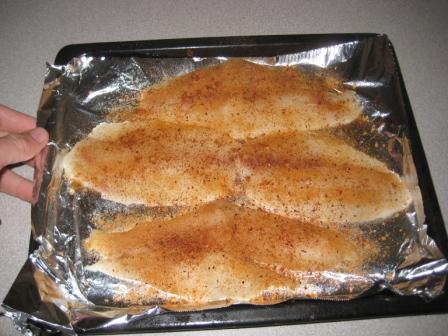 Like 15 minutes later they were ready and we made some fish tacos. I was surprised that Heath was concerned about the meal. Sure I didn't have or look at any recipe and it's not a meal I ever order but how can you mess up some fish in a taco. Well they were tasty and probably nutritious.
We finished the show and the meal and went our own ways to work on projects. Heath did some scrapbook card making and I took this thing out of the basement fireplace.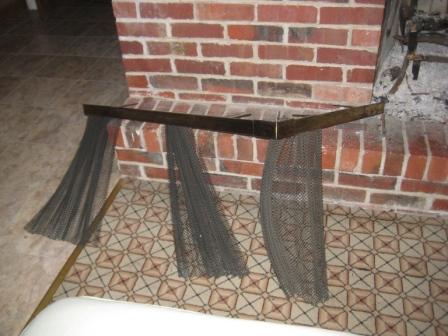 It's the screen thing that slides across the front of the fire and was in the way of the coming fireplace insert.
So now the fireplace looks like this.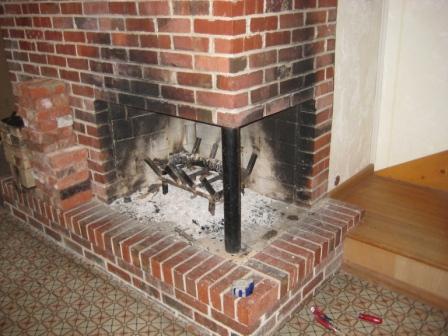 It's on a corner and one of my next projects will be to brick in the right side of the fireplace. I did some measuring and looked over the specs of the insert and laid out bricks in a few different ways and tried to come up with a great plan. I'm really excited to get this bad boy installed.
I decided to do some more research and got online. I looked at several sites and directions for such things and ended up stuck on www.woodheat.com for a while. This site had tons of cool ideas and useful information and I plan to spend more time there. Heath and I then ran to Home Depot for some mortar ideas then came home to watch a movie.
Did you know there are 3 Pirates of the Caribbean Movies? I guess I lost track after the second and only thought there were 2.
If you knew there were 3 did you know the 3rd one is 2 hours and 50 minutes long.
Well I certainly did not know that and I didn't find out until we were about 2 and a half hours in. That's a lot of fake pirate action.
If you have seen them all but can't remember which one is which well the 3rd one is when the writers moved into the heavier drugs and made the movie trippy.
Other then being a bit long and kinda weird the movie was ok.  I think I thought the first was decent the 2nd was nothing special and going into the 3rd I was not expecting much and so it was alright.
Well since the movie was an hour longer then expected we didn't get to bed till late but at least I can get a 3 hr HD file off the DVR.
Two things I could use some help on that I meant to work into the post above but didn't pull off.
1: Anyone have any brick building experience, like mixing the mortar or good resources or tips or any experience with laying brick in this type of situation? I have all the fire brick and regular brick I need but not the know how or stuff to make them stick together.
2: Do you use a Credit Card and like it? What does it do for you? I've got one now w/ a decent rate that I never use and no monthly or anual payments but I don't get anything back and almost never use it. We want to dump this card and get one that gives us money back or airline miles back or free gas or pies. Something like 1 free pie for every $100 charged would be ideal but if anyone else can through out any other ideas I'd apreciate it.