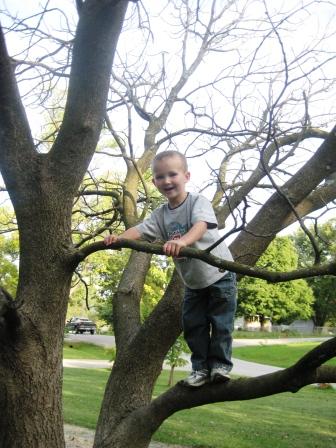 After work I cut up some carrots and broccoli and tossed them in a pan. I washed and wrapped some baked potatoes and tossed them in the oven and I put a couple of chicken breasts on the grill that had been marinating in BBQ sauce.
Then I headed outside and got to mowing the lawn. Heath and Peanut got home and I took a break and set the table then we ate. After dinner Peanut and I went out front to ride bikes and finish mowing. I got more help then I needed but it was fun.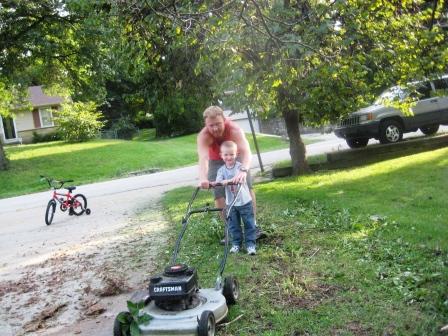 Peanut recently learned how to climb the tree in our front yard and really enjoys hanging from it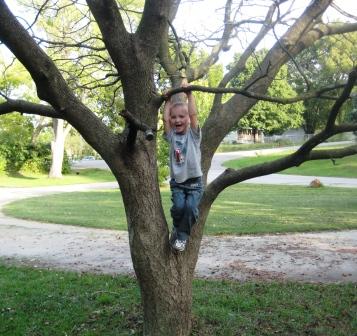 Once I got the lawn mowed I broke out the new ladder and hopped on the roof. I cleared out all the gutters in the front while Peanut played in the tree, rode his bike and chased the new neighbors dog around.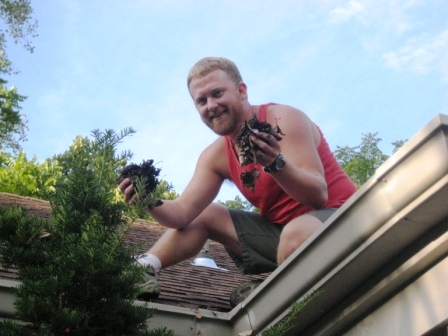 After the roof was done Peanut talked me into some baseball and Heath came out to join us. We all took turns and got to hit and pitch and play outfield several times.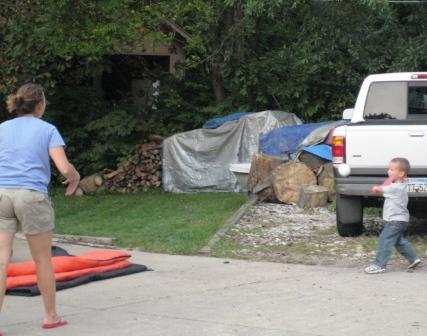 Then Heath went to some sort of scrap booking stamp meeting and Peanut and I headed inside. First we carried up the sleeping bags, tents and camping supplies from the basement then got him ready for his bath. He got the GI Joe's together and his Cabela's Boat and they all went for a swim.
While he was in the tub I began to prepare some food. I've set a fairly ambitious menu for our small camping trip. The 3 of us are going to drive down to my Grandma/Uncle's farm and set up camp by the lake there. My first goal will be to get a fire started and build up some coals. Then get tents set up before dark.  Then I'll take the coals and put them on top and under my dutch oven.
Last night I made some wheat pizza dough that I'll put in the  dutch oven and bake. After the crust is getting harder I'll add some sauce, cheese and toppings and cook up a campfire deep dish pizza. It may take a while to cook so we can cook up a kielbasa sausage ahead of time if needed. If we are not too full on deep pizza filled with ham, turkey sausage, onions, peppers, garlic and pineapple then we can break out the smores supplies.
I got 3 fishing poles together and kept all my honeymoon gear and catfish lines in the tacklebox so if there is time we may try to catch some fish as the sun sets.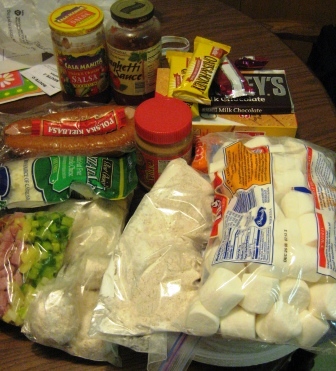 In the morning I am not going to be taking it easy on breakfast. Last night I mixed up a container of dry ingredients and wet ingredients that can be mixed to form home made biscuits. I'll create the biscuits then bake them in the dutch oven. While they are baking I'll fry up some eggs and then make sandwiches with the biscuits, eggs and add some ham and cheese.
I'm really excited about these campfire meals and they will be tough but I got everything ready early that I could so as long as we get some good coals we should be eating great out there.
After making the various doughs and cutting up my toppings and getting everything together I got a pruney Peanut out of the tub and into pajamas, he claimed to be hungry. He ate a good dinner but knows we have leftover chicken wings and wanted some. I agreed he could have 1 and got him set up with one in front of the Wonderdog movie on tv.
He ate 70% of a wing then told me that one was too hot and he needed a different one. So he ate almost 2 of them then we turned off the tv and read the story of Rumpelstiltskin. It was just ok. Peanut fell asleep quick and I got a few more camping supplies packed then headed out to the deck with Stooks. After a drink we moved inside and watched the season premier of It's Always Sunny in Philadelphia.
Heath got home near the end and we looked over her cards and stuff from the meeting then headed to bed.