I started getting dinner ready as soon as I came home. We needed to eat something quick so we could head out to Heath's Softball game.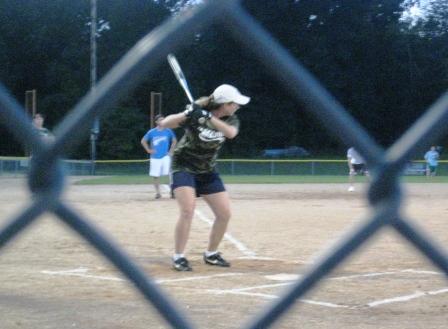 We had some frozen spinach stuffed rigatoni and some spaghetti sauce with meatballs, garlic toast and a can of Popeye spinach.
As we were sitting down to eat the Corning Ware pot slipped from my fingers and was destroyed.
There was glass and spinach all over the sink. So we abandoned the spinach and I tried an experimental can of asparagus.
We ate and once the asparagus was warmed up we ate it too. It was kinda gross and I probably won't buy it canned anymore.
Then we headed to the game. The softball park had a playground and Peanut wanted to play there all night.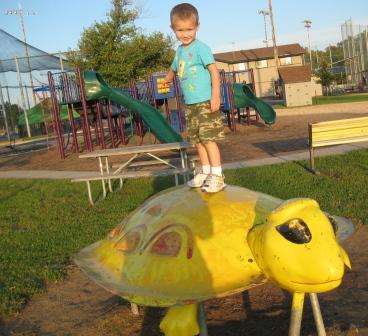 They had a fiberglass turtle that was pretty cool and some rubber netting stuff to climb. The netting inspired Peanut to play spider man and he climbed to the top then squatted and held on waiting for bad guys to come.
Just like this.
When he was not perching or sliding around on the turtle he was selling me Iced Tea (pieces of mulch) and I was paying dearly for them (more mulch).
Fortunately we did not play on the playground all night and I was able to tear him away and over to the game occasionally. Just as you would expect at a coed adult softball league, there was a lot of this going on.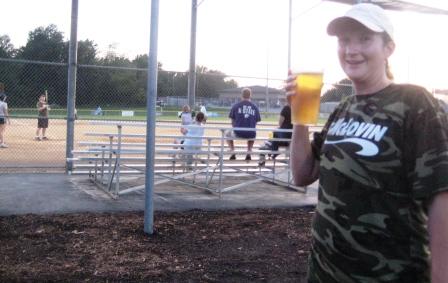 But they played the whole time too.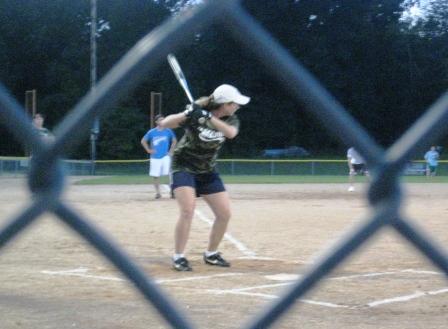 We saw Heath hit a double and toss in a few balls. We missed her dramatic slide into base but saw the aftermath of the out.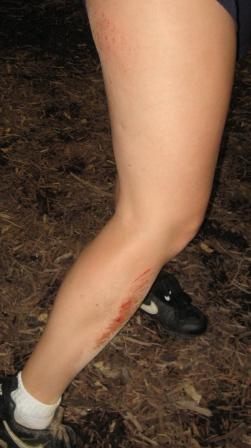 After the doubleheader we congratulated Heath and met her coach, who went to high school with me. So as not to get lawyers involved I'll not name names and just say initials JR and dated Dan Hilboldt.
So we headed home and got Peanut in pajamas and his teeth brushed and read him a story. Then Heath cleaned up and I headed to the deck to join Stooks and Stephen for a beer or two before heading to bed.