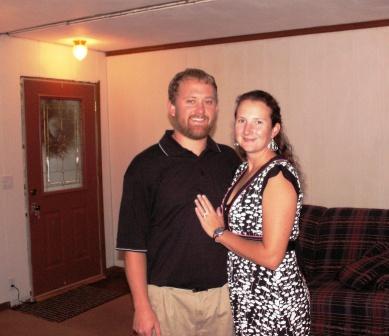 First I would like you to notice a few things in the picture above.
1:  We are looking good
2:  I am not wearing jeans or shorts for the 2nd time in 4 days
3:  The front door is visible and the wall is 5 feet farther back then a week ago
4:  This picture is reasonably clear most of the rest in this post are not.
5:  Seriously did you notice how sharp we look?
OK back to business, I got home from work, got on running clothes, pulled the basement door off it's hinges, did some measuring and then looked online at how to cut a hole in it. Then Heath came home got running clothes and grabbed Berry and started running.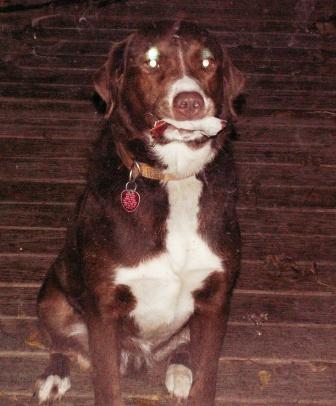 It was a great night for a run as it was wet out but not raining on us. It was cool but not cold and very comfortable. We ran fast and went between 2-3 miles. We stopped at the creek to let Berry poo in the woods and he took the freedom as an opportunity to jump in and swim after his poo.
When we got home we took showers and got all done up then headed down to street to cash in a coupon at a Mexican place at 103rd and State line that we had never eaten at. It was this one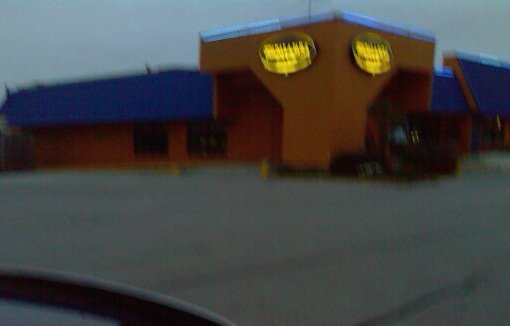 You know this one, right? No you can't see it, well how about from this angle?
Still no? Ok this is the Guadalajara Cafe.
It's a fancy Mexican place that is kinda expensive but we had a coupon for $10 of a $30 bill which made it quite reasonable. The place is kinda dark w/ a candle at each table. They had great salsa with crispy hot tortilla chips. Heath got a raspberry margarita and I got the house.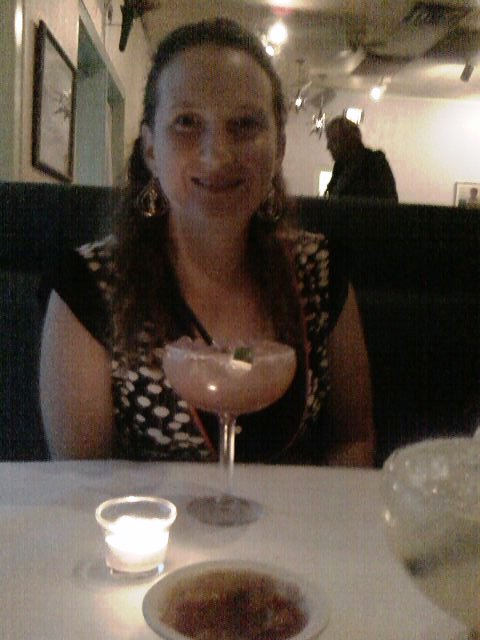 Things to notice in this blurry cell phone taken mess:
1:  The romantic candle
2:  The fruity over sized beverage
3:  The colorful salsa
We chowed on the chips and worked our drinks over and had a terrible time picking out what to order. The waiter really steered us away from the combo dinners and the burritos and pushed the house specialty menu on us. The stuff was different, possibly more authentic and lots of things sounded really good. I settled on this: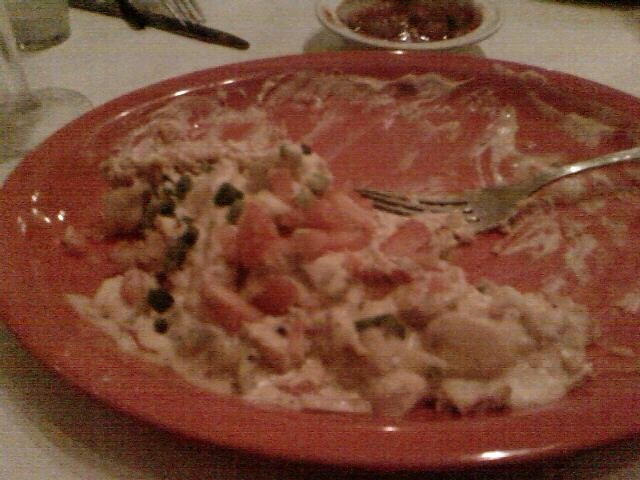 Looks fantastic right? It was pretty good and very different then any Mexican food I had tasted before. It was the Creamy Chipotle Chicken. It was a bed of rice and tomatoes covered in chicken, broccoli, cauliflower, onion and carrots then smothered with a creamy chipotle sauce. I scooped it into a tortilla and ate it like that. Heath got some huge steak tacos that looked good but I was too full to try out.
After dinner we did a bit of walking to help our stomachs digest. We continued the romance by walking to Price Chopper and getting some grapes and wine and chocolate sauce and strawberries … ohh and some steak and corning hens.
Then we headed home and opened a bottle of wine and played a game till 9:00. Then we headed back to 103rd and State line and got some $0.25 draws at Ugly Joes. We got into some really good conversations about life and politics and home remodel and all sorts of stuff and ended up staying way to late. Luckily we didn't drink too much and took it slow, then headed home.