So Friday after work we quickly grabbed a few snacks and headed out to Louisburg. We stopped by best buy and wal-mart looking to replace our camera but did not find one we liked.
The Powel Pumpkin Patch is huge and and still had a lot of great pumpkins.
First we took a hayride behind the tractor and scoped out the crop then wondered into the field to look around and decide what pumpkins we wanted.
We planed on getting 3 or 4 and as we walked we each picked out different ones as we found better and better pumpkins.
I found this giant guy and decided it was the biggest wierdest one I could find.
Heath found one almost as big and Peanut found another good sized one. We payed for the pumpkins and I loaded them in the car then Peanut got to play with a couple of friends.
They wrestled and jumped on hay and had a blast while we visited with one of Heath's friends. My mother in law showed up and picked out a few pumpkins and the boys started playing in a huge cold puddle. Peanut soaked all his clothes. Pics at http://prewitt.smugmug.com/gallery/6284837_gh58U
We got him some new clothes then went to a Chinese restaurant for dinner. It was kinda late by the time we got home and got Peanut in bed.
Saturday was busy. We went to McDonald's 3 times trying to win a wii in a giveaway. Heath and Peanut saw a movie, we went to Lowes and Wal-Mart and did a lot of work around the house like splitting wood.
Durring the movie I split some of my bigger logs. I had to do most of them by driving a wedge into the middle and making it crack like this.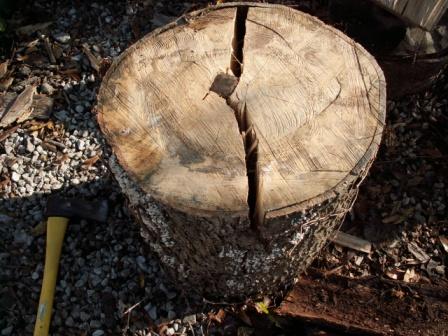 Then make it open up by driving another spike into the side. Also Sunday night Stephen and I picked up a full truckload of rounds from a nearby church. They are a lot bigger then they look.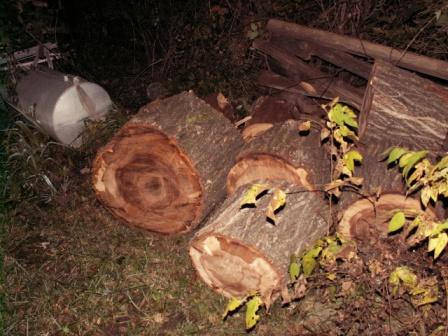 Saturday night we got all dressed up again and headed to another wedding.
Saturday's wedding was for our good friend Lucy and it was at some Masons temple place that Peanut and I thought looked like a castle. It was all really nice and we all had fun. During the ceremony Peanut colored and played with a car.
Some of my favorite parts of this wedding were the keg of boulevard, the huge buffet of gourmet finger snack foods and the sparklers everyone held outside when the new couple ran to the limo after the wedding.
Peanut's favorite part was meeting a new friend also named Peanut, coloring with his new book and the chocolate fountain.
all wedding pics are up at http://prewitt.smugmug.com/gallery/6317687
Sunday morning I got up early and started putting water treatment on the deck.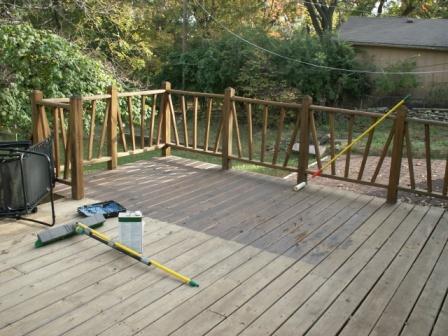 I used a paint roller on the bottom of a broomstick and it worked great. I got a good amount everywhere and it went really fast. I only ended up doing 1/2 the deck then planning to move everything and do the other half. I'm not sure when I'll do the other 1/2 yet.
Peanut and Heath went to church while i was working on the deck. Sunday made Saturday look like a lazy day because we got so much done. It was so nice we tried to stay outside but many of our projects were indoors. We moved all the couches in the house around and a lot of tables. We cleaned things organized the garage and made return trips to Lowe's and Wal-mart. Ohh and we climbed the tree.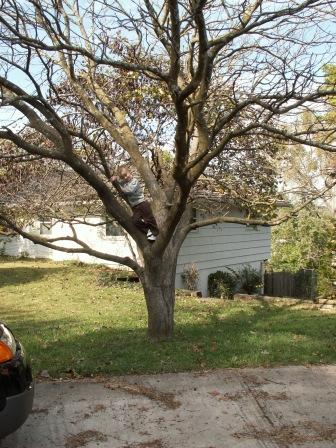 And got our scarecrow out of the shop to watch over our house.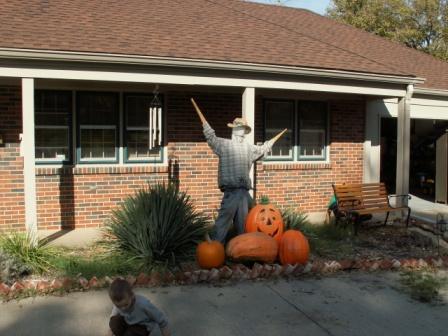 We went to McDonald's for ice cream and went for a nature walk in Leawood park and Heath and I relaxed on a bench at the playground while Peanut played.
After the park we went home to get dinner started. The day before I had thawed and started 3 corning hen's marinating.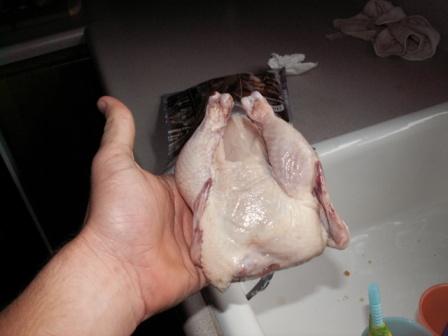 The birds soaked in terriaki all day then moved to the toaster oven where they cooked for an hour and a half and were slathered with butter and terriaki every once in a while.
They came out and I served them with cheesy broccoli and fried rice.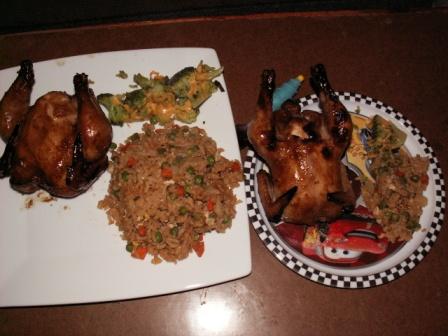 Each of us got our own hen and ate them on the couch in it's new place.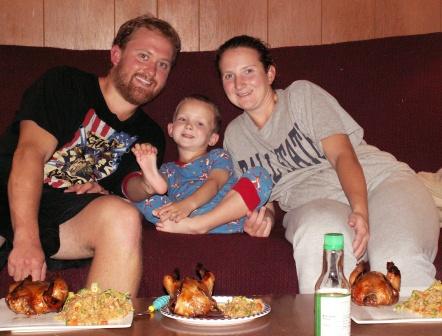 After dinner we decided the new couch setup is probably worse then the old one. So I'm going to start putting couches and other stuff up on craigslist so we can get them out of our house and make room for new ones.