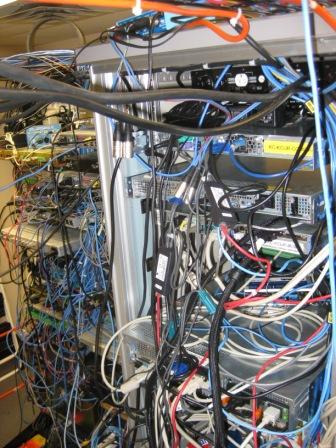 I can't decide if I should go back a few days and talk about work stuff or just move on and talk about last night. I guess I'll tell a little about it.
A few computers run the radio station. When people are here they put audio files into a little playback program and then play them on the air. The computer also has many timed recordings that where it records shows so we can play them on the air later. When no one is here the computer follows a list of commands and switches the station between classical music and the BBC and plays news casts and things all by itself. These few computers do a lot for the station and are essential to getting things on the air. Tuesday we replaced it with new software, new computers and a new way of doing a lot of things. So it was a busy and very exciting day but things went really well even though they took a long time to do. Everything has been working fairly good so far under the new setup.
So after work yesterday there was still some sun out. I got on the work jeans and started splitting wood.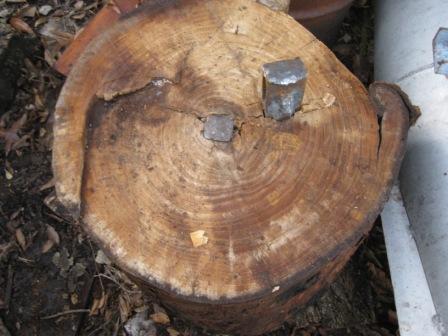 I split a several logs and got to feeling pretty ambitious and got out a huge round and started driving my wedge into it. Next thing I knew my wedge had been engulfed and barely cracked the round at all. I got out another wedge and drove it in farther and farther and it really did not move much and certainly was not forcing a crack to form. I decided not to lose both my wedges and decided to split some other wood and stack everything first.
Heath and I ate some dinner then got busy on the fireplace project. Can you tell what is going on here?
A chimney brush, drop light and me are all inside the fireplace. I decided to clean everything out good while the door was off and the opening was real big. The soot comes off really easy and it did not take long to have a much cleaner fireplace.
Ohh and a much dirtier "The". I blew my nose this morning and a found a bunch of soot I missed.
After the inside was clean I washed my hands then Heath and I put in the 2nd door. We put insulation in the door and around the edges where the door and fireplace connect. Here is Heath getting some up in the cracks.
When we took the doors off we found a bunch insulation in there and decided not to recycle it but to replace it with new stuff. Once the door was up and well insulated Heath cleaned the glass and poked the last of the insulation into the edge.
And we were done so I could hop in the shower before I got soot everywhere.
So here is our before picture:
and here is the middle:
And now we have this:
After my shower I was feeling pretty beat and the motivation to start spreading mud on the ceiling patch could not be found. Unfortunately it was only 7:30 and I could not justify going to bed either.  Also I was nervous about how our new computer setup would handle things at 9:00 when it makes the scary change from doing what the announcer wants it to, to running the station by itself.
Heath and I decided to head to Waldo to be closer to the action and to get a drink or two. We went to Hannibal's Waldo Bar (Formally Fin's) and really admired the new remodel they had done. We got our first round on happy hour prices and got Stooks to come join us. Eventually Jon and Amanda stopped by covered in drywall mud and other debris from working on the basement and on their ways home.
The station behaved as it should at 9 and so we got another round and I did not make my 9:30 bedtime I was hopeing for. Heath and I got some Wendy's Double Stacks on the way home and it took me no time to engulf mine, load up the stove and fall asleep.