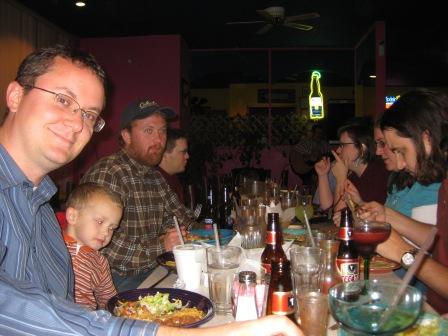 ______________________________________________________________
TRIATHLON TOMORROW !!! – We leave our house at 3pm – 40°F-31°F
______________________________________________________________
As soon as I got home I tried to take advantage of the sunlight that was left and got out my ladder and climbed on the roof.
The day before I had strung too many lights together on one plug and one had blown a fuse in the string. I had to rewire some stuff and add some extension cords but a bit before dark I had all the lights lit up again.
Then I headed downstairs to work on the karaoke setup. Heath was down there doing laundry. I  had moved the room all around and needed to move all my audio and video stuff to get the computer working with the tv and stereo again. I think the temporary setup I'm using now is better then the way it was previously.
Then I loaded up the stove with wood and Heath Peanut and I headed to Chelly's for dinner. We quickly became a group of 9 hungry and thirsty birthday celebrators.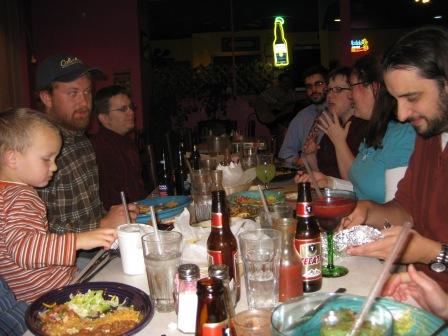 I got a huge fajita burrito that was really good and everyone elses food looked good too. We had several drinks and I think everyone got stuffed.
Then we headed home. Peanut and Heath put on PJ's then we headed over to Stephen and Becky's for a post dinner party of margarita's, milk and some chocolate mousse pie from Tippin's.
Shortly after pie we headed home and I read Peanut a book on why things float then told him a story about a big metal boat. Then I headed back next door and Heath rubbed Peanut's back and tucked him in. I had another beer and checked out Stephen's new media setup then headed home. Heath and I watched the Office, My Name is Earl, and 30 Rock before falling asleep.