Bobby (left) threw Derrick (right) a birthday party last night
But it was not until 7:30 so I better rewind a bit. I got home from work to find Heath starting up the stove, it had burned out. Then Stephen came over to have a beer and talk for a bit. We were in the basement and so conversation led to the wall and plans there. After a couple beers Stephen left and Heath and I got running clothes on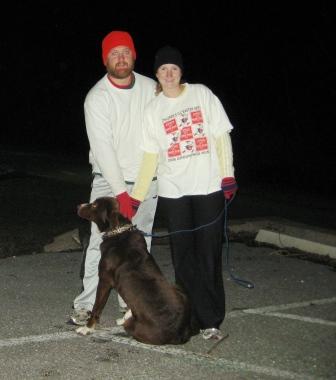 loaded Berry in the truck and went back to the trolly trail parking lot at 85th. We ran the exact same route as we did the day before but it was so nice we really wanted to do it again.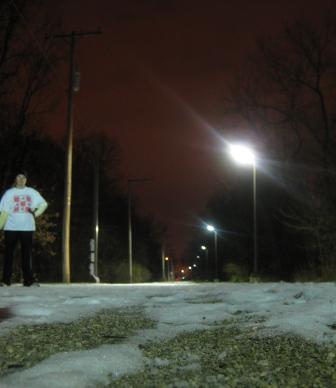 There are some woods early on so Berry can run into them and do his business and the trail is nice and flat and right now a mix of chat (mini gravel) and snow.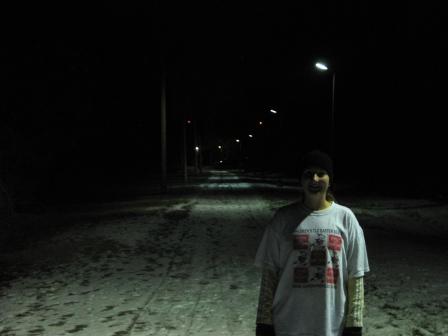 After the woods it goes through some neighborhood areas and we turn around after it pops out in the middle of down town Waldo.
After the run we headed home to change and shower and I was starved so cooked up a frozen pizza, fried cabbage and some asparagus. We ate quickly then headed to LongHorn Steakhouse.
The plan had been to eat a little dinner then enjoy appetizers and drinks during the birthday party but it did not work out like that. 10 of us sat at a big table and everyone began picking out their steaks and sandwiches and Heath and I did not see anything that looked good on the appetizer menu and being in the restaurant made us more hungry so I got a burger and she got a sandwich. Both were great. I didn't take any pictures with my camera but Derrick got a nice new camera w/ crazy zoom and we took several with it.
everyone gobbled their steaks and lesser food items and had some drinks then we moved on to Bobby's apt for the real party. Lots of people started joining us to party.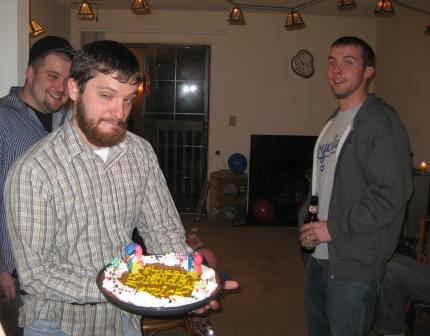 Derrick turned 26 and is looking more and more like a pirate every year.
Heath and I hung out till it was past my bedtime and then had another drink and headed home. Once there it was time to unload 2 coolers and a trash bag full of deer meat.
(so cute)
My friend Jake (on the right in the pic above the deer) shot an extra deer this year and got us 100 lbs of deer meat. Admittedly I did not do a great job of packing or cleaning out the deep freeze but it was more meat then the freezer could hold.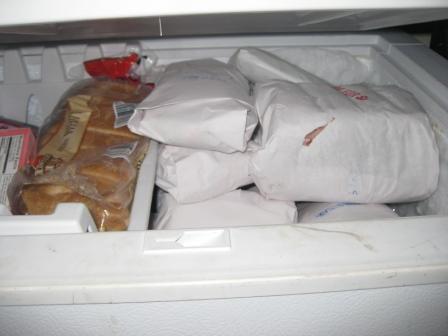 It's just a little freezer but very full.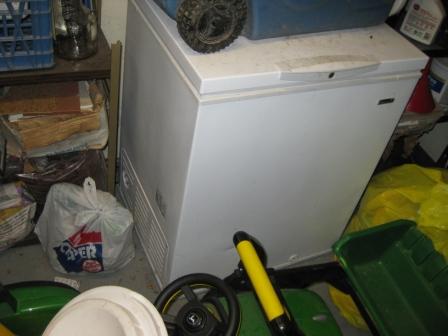 I got all but 4lbs in the freezer and put 2 in the kitchen freezer and left 2 lbs out to dethaw for this weekend.
This weekend…, you ask?
Tony, Jon and I will be heading north to the mightly logging country up there. Armed with mauls and chainsaws we will embark on a 36 hour battle of the men lumberjacks vs the woods. If victorious we will bring back trucks of firewood and aching muscles. If we loose, the woods will claim our limbs. So wish us luck.