(1) – Siracha Hot Chili Sauce – This stuff is great and I use it about every day on something. Last night I had it on an omelet and hash browns, the night before that on a burger. It's a zippy replacement for catsup or hot sauce.
(2) – Twitter – My use of twitter goes up and down but since I put it on my phone I have been fairly regular. So I decided to plug it on my site to possibly find some for friends to follow and keep myself entertained. Or if you want a sneak peak at what I'm up to before it hits this site check out my page http://twitter.com/chrisprewitt
(3) – Survive This – It's a newish show on Cartoon Network hosted by Les Stroud the Survivorman (I follow him on twitter BTW). It's a kids show and kind of a reality show but I find it really entertaining and am always disappointed when the 30 minute program is over. Heath and I instantly got really into the kids and their good and bad habits.
OK so on to last night…
I asked Mike to come over right after work so when I got home I quickly got changed and started getting some dinner stuff ready. Heath and I were excited for a breakfast dinner starring chorizo.
I broke up two tubes of the sausage and got it frying in a pan with some onions and mushrooms. This stuff is really soft and really oily. The oil picks up some of the red pepper in the sausage and makes it bright red.
I washed some potatoes and got them ready then Mike showed up. We left dinner alone and moved on to the nursery project. We looked over the room and all the corners we would need to deal with and then moved to the garage and cut our first piece. I used my guide and we slowly figured out how to flip the boards upside down and backwards and keep strait what angle to cut and were able to cut the board like our guide.
Then we carried it to the nursery and easily stuck it to the wall.
It looked good and went really smoothly. However this board didn't need to match up with anything yet and required no measuring as the wall was longer then the trim boards. Then we moved on to the board what would connect with our first one and run the rest of the way to the corner. We did some careful measuring and noting of what cuts we needed then headed to the garage to create it. At first it was a little long as planned. We shortened it to the right size and it fit but looked bad.  It took us a while to decide that our cuts were ok but the first piece of trim we used was a very slightly different piece then the rest of our trim boards.
We pulled it off and started over with a fresh board. We cut it and put it up and the connection between the first two boards looked a lot better. Then we moved onto the corner and the second wall. This wall was also longer then our boards so we didn't need to measure just make it long as we could. We got it all cut and brought it in to discover our corner did not meet up at all.
First we tried adjusting the cut a little and trying again but we just made it worse. I tried to wrap my mind around how to adjust the angles and decided it was not something my mind was prepared for. We found out the corner of the wall was not 90 degrees as I had assumed. I didn't have any tools to measure what angle the wall really was and I didn't have the mathematical knowledge to know how to adjust my cuts to make them fit the odd angles.
Instead of continuing on and having terrible joints that I would fill with silicone to hide we decided to quit for the night and do some research.
The house smelled pretty tasty from the chorizo so Heath cut the potatoes up and we got them frying and made a huge pot of hash browns and 3 omelets stuffed to the max with chorizo, onion, mushroom, black beans, corn, cream cheese and shredded cheese. The omelets would not even close they were so stuffed.
We took our plates into the family room and watched Survive This.
It was the 3rd episode for Heath and I and the first for Mike and he was hooked after about 10 minutes. When the show was over Mike and I rolled out the carpet in the room downstairs and got the dehumidifier running on it. Then we took a look at my drain problem. First we tried plunging it but could not get the plunger to seal anywhere as it was too big. Then we tried to turn the middle section our and even beating it with a hammer and screwdriver but it did not budge at all.
We gave up and played some Wii Star wars till 7:30. At 7:30 another episode of Survive This started so we headed upstairs to watch it with Heath. She had been painting the dresser and changing table for the nursery but we made her stop and watch TV.
After the show Mike headed home and Heath and I headed to Denny's.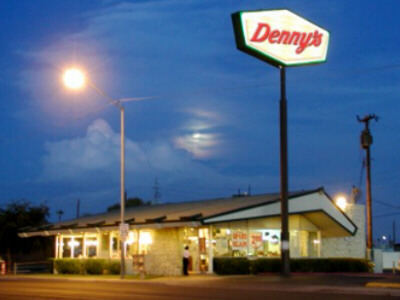 We had a monthly meeting with Peanut's dad and step mom for about an hour and a half. It went on for an hour and a half or so and seemed to be pretty productive and things went well. I was worn out by the end after a short night of sleep the night before but had been drinking a lot of strong ice tea in the meeting and my mind was still cranking away and neither Heath or I could fall asleep for a long time. I feel pretty good this morning though.