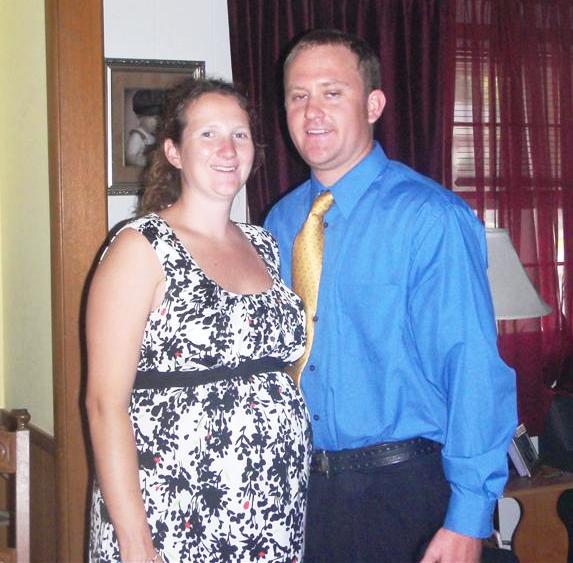 wow thats a terrible picture of me I swear I had not drank anything yet.
OK I give up on Smugmug ill do the pictures manually.
Tomorrow begins the 50 day countdown till the due date so Heath is pretty pregnant. I think I read somewhere that she will gain a pound a week or something like that from now on and most of that goes to the baby. So date nights can not be full of adventuresome jogs through the woods or wrestling bears or trampoline acrobatics. We took the opportunity to try for a romantic evening. This is probably what most people would expect from a date night anyhow. When I got home I put on my nicest pants, shirt, tie and shoes then started boiling some water. Heath was surprised when she got home to see me all dressed up and I explained my date night plan. She surprised me by reminding me about a nursery/daycare tour we were scheduled for right after work. So we changed my plan a little and I put on shorts and a t-shirt and we headed to the daycare place. We met some head lady and she showed us around.
The place was new and kind of expensive but otherwise looked fine. I'm thinking our criteria for a nursery are pretty basic, make sure the baby is fed and changed and not abused and does not cry all the time.
The state makes sure all this happens and that the teacher to baby ratio is good and all that stuff. So we liked this place but want to check out as many other convenient places as we can before deciding. This one was at 103rd and State Line so pretty convenient.
We drove around the corner and parked by Price Chopper then walked the trail for a mile or so.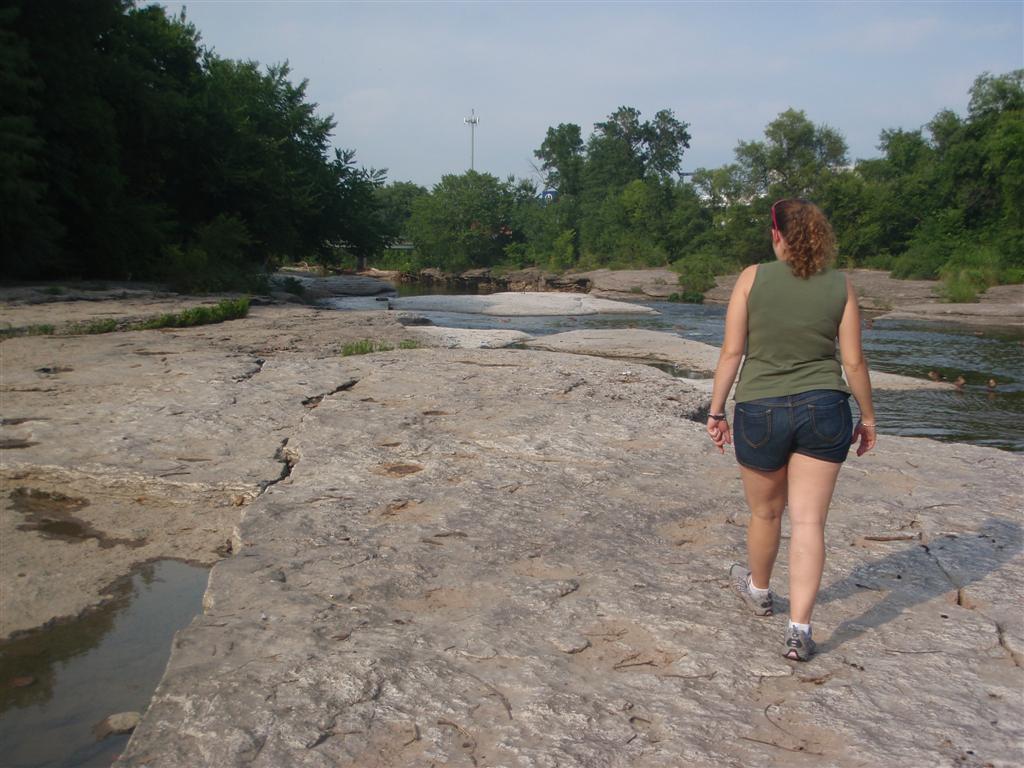 We talked about daycare mostly. Then we went into price chopper and got a few things to make dinner better like extra shrimp, green onions, bottle of wine for me and a bottle of POM pomegranate juice for Heath.

The drinks cost the same (cheep wine, expensive juice).
We picked up a Redbox and headed home. Heath had a few movies she wanted to see but none were inside the red box apparently so we picked out Slum dog Millionaire because it won a bunch of stuff and was supposed to be good and we had not seen it.
Once home we worked on creating a Japanese dinner. I know you are thinking I was tossing shrimp in Heath's mouth and making volcanoes out of onions but all I really did was boil water. We had Soba noodles and miso soup.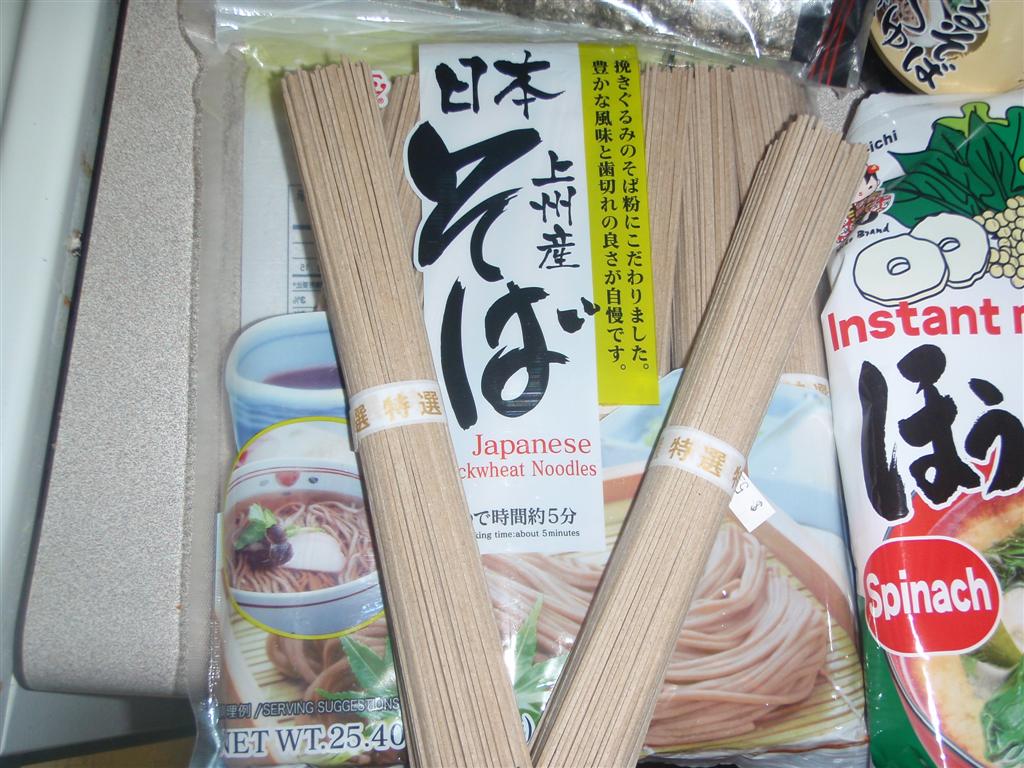 Soba noodles are a grayish buckwheat noodle that typically you dip in a special cold thin brown sauce and eat cold. So once the noodles were cooked I put them and the sauce in the freezer with our drinks. I made the miso soup super hot and added little bowls of green onion, shrimp and dried seaweed to mix in our soup and Soba. (Kentaro, Chiaki or any other Japanese readers – If I got the words or process wrong please let me know)
Meanwhile Heath was setting the table and lighting up all the candles and drawing the shades for a nice candlelight dinner. Once the food was all ready we changed into fancy clothes and sat down to eat.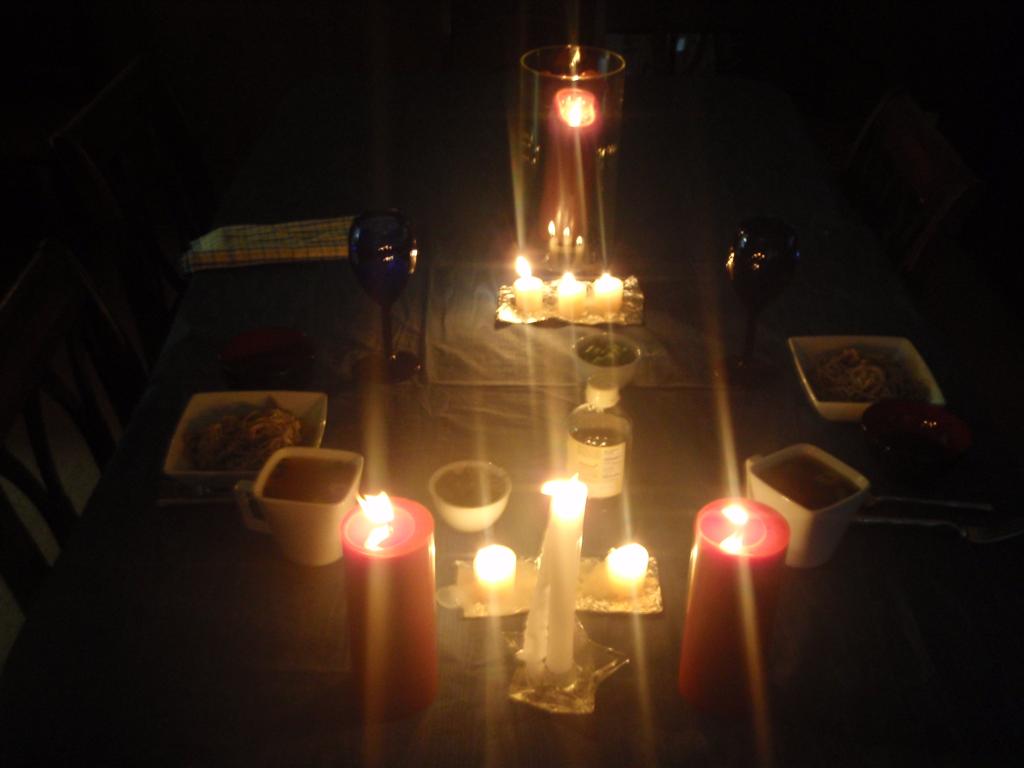 I had eaten Soba before once in Japan many years ago and from what I could remember this was really similar. It was pretty tasty and the shrimp and onions and seaweed were a nice touch. I thought the sauce was tasty and made the dish but Heath was not a big fan and preferred the noodles on their own.
We listened to some romantic tunes and talked and watched the candles and ate everything on the table. Both our drinks were pretty good and after dinner was gone we brought them into the family room. Then we changed clothes to be comfortable for the movie. Jon and Amanda stopped by to borrow a bit of firewood just before we started the movie.
Then we just kicked back and enjoyed the show. It was an intresting plot and a pretty cool movie. We did not know what to expect but were pleased. After the movie we headed to bed for a bit more tv and sleeping.