I'm sure grocery shopping did not come to mind but it's the only picture I took last night.

Yeah so that was the only picture we took last night but do you really need a picture of everything I eat for dinner or every pile of things we bring home? I did take a few videos yesterday that I'll show you but they are not that great.
So I got home with a big "Do by Xmas" list and a lot of the stuff we had done the day before but there was a lot left to do and most of it was shopping. Heath and I were hungry and listening to the radio trying to win Bon Jovi tickets so I got started on dinner. I boiled some water and tossed in some buckwheat noodles. In another pan I tossed cabbage, peas broccoli and zucchini together and cooked it a bit. Then we mixed it all together and poured on some soy,garlic and Japanese sauce.
We ate on the couch then Heath talked on the phone some and I played with Pumpkin. She was really playful and doing some good laughing and smiling and lots of funny noises. So I think to myself This is great, I better record this.Here is what I got
As soon as I turned her around and turned on the camera she just looked around and did nothing. So I thought maybe looking at me making faces at her was the trick and so I wedged the camera between my beard and chest and tried again.
This worked a little better at first but I really had no idea where I was filming and I didn't want to talk to her with the camera on my throat.
So I gave up on the video and just played with her till Heath joined us. Then I tried doing some super baby. She loved it at first but was pretty camera shy again and it makes Heath nervous.
So none of the videos were great but you will probably see them again in some sort of compilation.
I do think this santa video from last weekened turned out good though.
After playing and getting Pumpkin fed, changed, exercised and entertained we started our shopping.
First was Aldi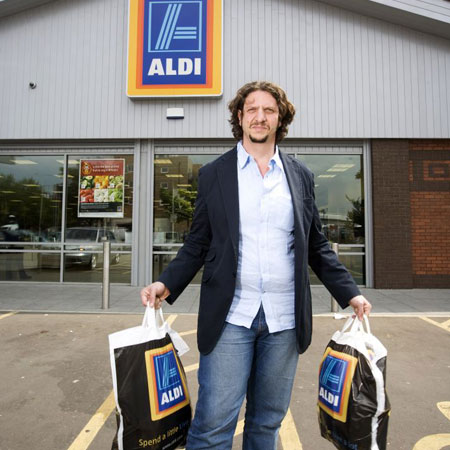 We needed a few general groceries for our house but mostly we needed supplies for the dishes we were taking to all the Christmases. Of course we went overboard and got a whole cart of food. We could not find 3 things on our big list though.
After Aldi we went home real quick to unpack refrigerator and freezer items then headed to the Big Lots in Waldo.
We had a list of people we needed gifts for and didn't really have ideas of what to get them so we tried out Big Lots since you never really know what you will find when you get there. Sometimes Big Lots trips are worthless and nothing seems like a good deal and sometimes you find all sorts of good stuff. This was a good stuff trip. We wondered the whole store and got all the gifts left we needed and even added some things to a few of the gifts we already had.
Pumpkin was great and slept or watched me through most of the shopping but was ready to be changed and fed when we left.
A few of the gifts we got required pictures to go in them so while Pumpkin was eating Heath and I went through our smugmug page and picked out a bunch of pictures to print. This took forever to find all the shots we wanted since we have 27,582 pictures and none are tagged. We found some really good pictures though and were ready for bed when done.