Pumpkin and I got home and thought we beat Heath there but apparently we had the same things on our minds and found her loading up the woodstove to warm up the house. We got a good fire going and Heath topped off the fishtank with water, I rooted through the camping supplies for the gear I would need and Pumpkin played.
Then we headed upstairs, Pumpkin had been talking about our Parents as Teachers lady Amy, and we didn't have too much to get done so decided to go see her and play. Before we left we had dreams of tasty calzones for dinner.

So we made some dough and let it rise while we were gone. Once at the playroom Pumpkin had to get all the babies fed and walked first off.
Then she played food, and run around crazy, and jump on stuff, and run to the potty, and go potty. Then we got out the blocks and worked on stacking.
This is not something we do at home often and when asked how high she can stack blocks we are somewhat clueless. She did a great job though and even sorted some stacks by color.
And of course her favorite part was karate chopping them down.
After blocks we got out the crayons and paper.
Pumpkin colored for a while and Heath tried to draw some animals.
Meanwhile I was still playing with blocks and the camera.
Then the phone rang.
It was the Wonder Pets.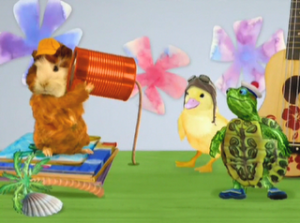 They needed Bat Girl.
A baby Octopus was in trouble.
So we rushed out, I guess we may have saved the octopus on our way to the car or we got distracted by all the art at the school and thoughts of cal zones.
Once home we got busy with dinner. I rolled out the dough, Heath got them topped

and rolled and folded and such then I stuck them in the oven till they oozed out.
Pumpkin was tired but stalled bedtime by needing more food, drinks and whatever she could think of.
Heath put her to bed and I got busy packing. I took all the food out of big bulky boxes and put it into compact ziplock bags. I tried to sort things by when we would need them and how soon. Heath got done with Pumpkin and started watching tv while I finished getting all the gear and food and everything into my pack.
I've probably got more water then I need and I'll be splitting the food and some stuff with the other guys but right now the pack was just over 60lbs.
Once I was done we watched the 3rd episode of Game of Thrones then headed to bed. I slept in this morning since it's going to be a late night and I will probably be hiking and looking for a campsite at midnight tonight.