So a few weeks ago Heath and I decided to take off last Friday and take the kids to Johnson's Shut in's and Elephant Rock state parks for a long weekend.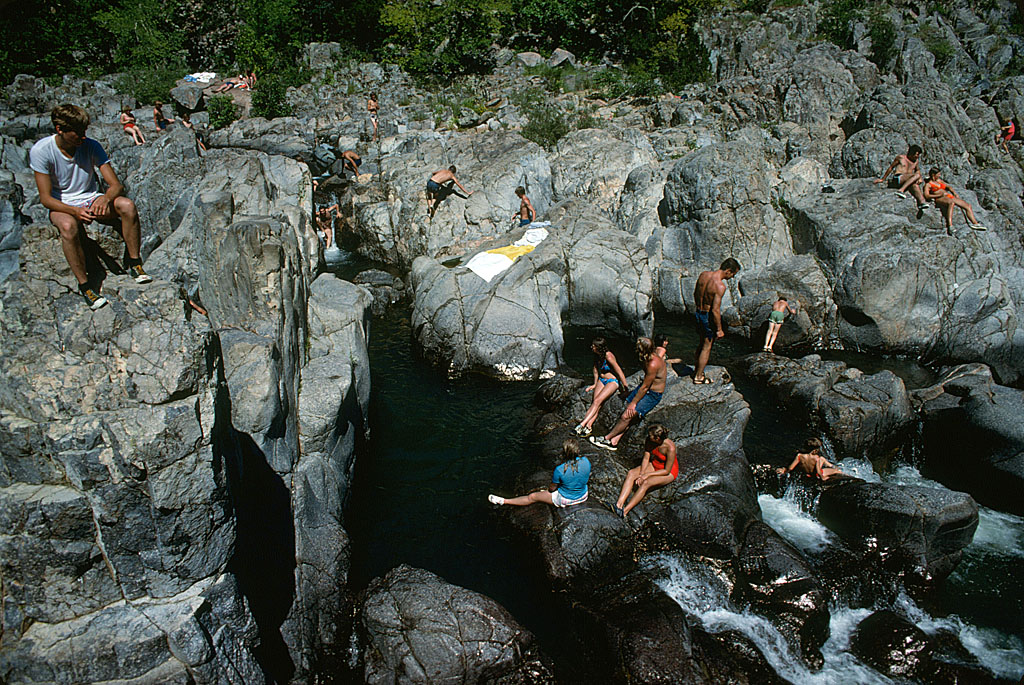 As the date got closer and closer the forecast for the weekend was looking pretty bad. Not just rain but thunderstorms all day and night the whole trip. I was not worried about a little rain but storms seemed like no fun.
Finally Thursday night we decided to call off the camp out. We looked at tons options at various drives in all directions but everywhere looked like storms. Finally we found a pretty sweet deal on a hotel in Branson and booked a room. We did a little packing and planing then went to bed.
Friday morning we took the kids to school and work then Heath and I got just about everything packed up. Then we hopped on the bikes and took them to breakfast.
We rode to Jerry's Cafe and got some sandwiches and then rode home. We finished packing, cleaning up and then picked up the kids at lunch time and hit the road. Both girls got really good naps in on the way. When we got to Branson the sun was shining and we were worried it was our only chance to be outside so we went right to the landing area.
It was actually really hot and humid out but we enjoyed walking the boardwalk along the river. There were lots of shops and stuff for the kids to do.
Every hour there is a fire and water show set to music and we just caught the end of one.
We spent most of the time at a playground area with a pirate ship and animals.
\
Everyone was hot and ready to swim so we headed to the hotel. We stayed at the Westgate Resort on the Lakes and it was amazing. There was a main room as you come in w/ a table, bar and full kitchen that was well stocked. It also had a big tv w/ 2 pull out couches.
Then through the door was the bedroom and bathroom.
What sold us was the big jacuzi tub in the room.
But the porch looking over the lake was a big bonus.
Anyway we were starving so made up some speghetti for dinner and we ate it all.
Then we went to the pool.
We played until it was normal bedtime then headed home. The girls took the first bath.
Then we got ready for bed.
It poured rain and stormed pretty hard most of the night but it was great in the morning. We had breakfast on the deck.
Heath and I went for runs and took showers adn then we all headed to the dam and fish hatchery.
We got there in the middle of a presentation and the kids got to pet some snakes and stuff at the nature center. We looked over everything really good then checked out the big trout.
Then we got our quarters and headed outside.
We fed a bunch of all sizes of trout.
I really liked the dam and power station but was unsatisfied with the lack of a view of the bottom of it.
Once everything was fed we drove down the street a bit and went for a really nice hike. It had rained so much we were worried about mud but it was not bad at all.
We were pretty hungry and had pick-nick stuff but decided to head back to the room for lunch.
We made sandwiches and then all the girls laid down for naps and Peanut and I ran to the store real quick.
Then we went on adventures around the marina, docks, other pools and all over the resort.
We got rained on a few times but never bad and it always let up once we ran back to our building.
Heath got up and we joined her back and the room and we fixed some drinks and then once the girls got up we all headed back to the pool.
We went all out at the pool playing catch and throwing kids in and stayed over 2 hours with everyone playing really hard. It was a of fun but made us hungry.
We rushed back and the kids took turns in the tub while I cooked up a special Mother's day dinner. We had pork steak, baked potatoes brussel sprouts and then dessert.
We also had rootbeer floats.
Then presents.
Then the kids got to bed so they could help me out in the morning.
We made up some giant pancakes and decorated them.
Then we surprised Heath with breakfast in bed but decided not to ruin the hotel sheets and eat on the deck instead.
We had really moved in so had a lot of packing up to do before checkout. Heath's cousin came down to a timeshare so we headed over to visit her and let the kids all swim together.
We swam until the lightning came and then the had some snacks and hung out a bit.
We headed home and got some sandwiches on the way and everyone but me slept. It was a really tough sleepy drive for me but eventually we made it. I got the lawn mowed since it was not raining and then we did some unpacking and getting dinner ready. Heath cashed in one last mothers day treat and we went to peachwave for dessert. I was beat at this point and got the girls and went to bed. Heath and Peanut stayed up late doing a science fair project.