Woo hoo it's my first post from Utah. We did arrive Friday morning around 9am. We left Kansas city at about 2:30am then slept in Denver's airport until 7:50am then flew into Utah. Friday we were very tired since we had not gotten to sleep much but we came to dad's house and got cleaned up and ate a big breakfast then went to see some caves. While waiting for our turn to see the caves pops drove us up a mountain to see a couple of really cool lakes.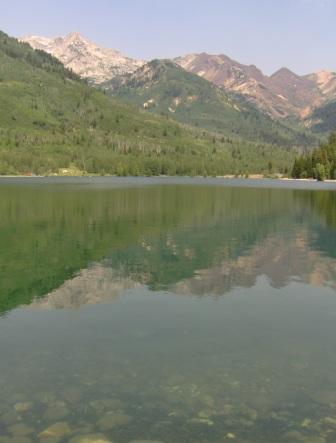 We hiked 1.5 miles up a mountain to do the hour cave tour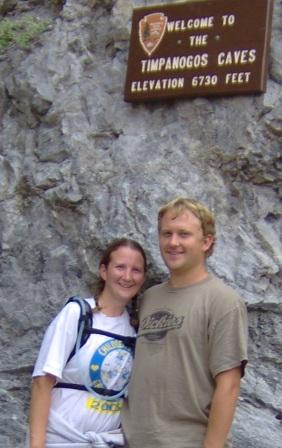 and then rushed back down and we took dad to work for a few hours. Then we went to sleep. We got up early the next morning to hike to Stewart Falls. This was a 2 mile hike through some really pretty woods to a big waterfall. We took lots of really nice pictures and then hiked from there almost another 2 miles to the Sundance (where some film awards are) ski resort. Then we drove into Park City. This is a little touristy town that is a bit artsy for us but was kinda cool. We were pretty thirsty and hungry so we went into "The Monkey Bar"  expecting to get some beers and burgers. They did serve beers and once inside we found out there slogan was "The only brass pole in Park City" and they did not have any food. We went a few bars down to something like the Unknown Saloon and had some Buffalo Burgers and a local brew called Cutthroat. After lunch we went home and I found out my SD card in my Camera was dead and all the pictures were lost. I was kinda pissed. Then we took dad to work and Heather and I went to Bridal Falls armed with her camera. We hiked up to the falls and all around Provo Canyon and took lots of pictures.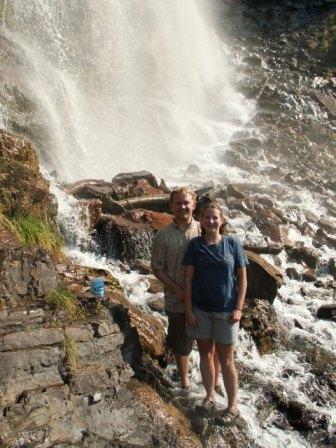 Then we ate some pizza and went back to pick dad up from work. We were still exhausted from the plane and from hiking around all day. Sunday we woke up at 5:15am and took dad to work then drove to Mt. Timpanogos. We hit the trail at about 6:45am and came back after 16 miles and 9 hours. It was an amazing day and a great hike. The trail was lined with wildflowers, waterfalls, hummingbirds, mountain lakes and streams, piles of snow, and enormous views.
(Heather on part of the trail lined with flowers along a stream)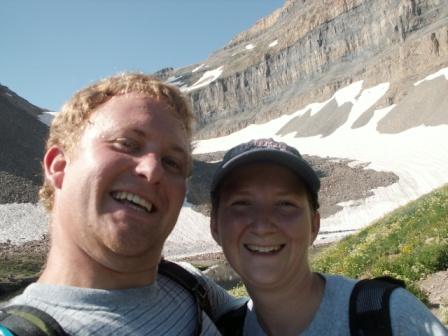 (Getting ready to hike through some snow and rocks near the summit)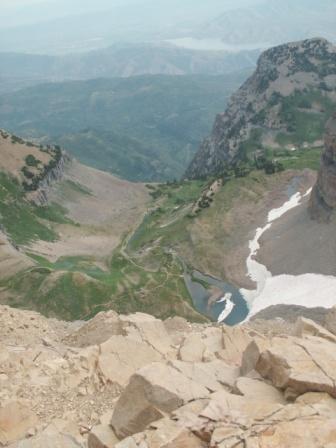 (Looking down near the summit, you can see the path next to Emerald Lake and a huge snow bank on the right. This snow was our way down and once back to the lake we refilled out water supply from it's crystal clear cold waters)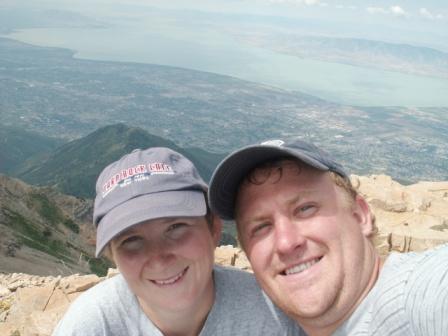 (Heather and I at the top Utah lake and the city in the background)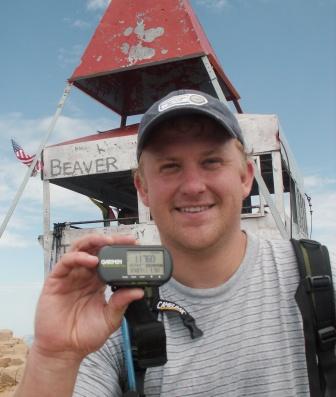 (The Top, GPS says 11,760 feet)
Once at the top we decided to take a shortcut down through a huge slope of snow. Instead of hiking around the side of the mountain down step switchbacks through the rock we slid down the snow. I sat down on my butt with my legs out front and Heather sat right behind me and off we sent sliding down the side of the mountain. Heather was shaking like crazy at first but then began to really enjoy it. Our butts and fingers got cold then stiff then numb very quickly but it was really fun and a great break from hiking. We took around 150 pictures on the way up so we ran out of memory for the trip down. This is the best picture of the snow I can find but it is only about 1/2 of the slide.
This is another one I took on the way up from the other side of the lake looking up toward the peak.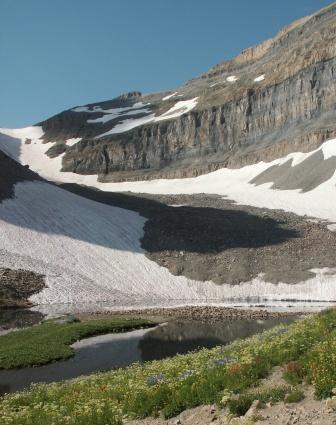 More pictures http://prewitt.smugmug.com/Family/Utah-July-of-06/7222562_rdvkz#464071319_XN46K