---
When:
Trying to schedule around Peanut's vacation (6/25-7/3) and Audry's wedding (7/15-17) it seems like we have these options.
May 27th – June 11th
June 2nd – June 18th
July 21st – Aug 6th
July 28th – Aug 13th
Peanut school ends May 25th and starts back up Aug 15th
---
Itinerary:
Thursday (7/21) leave our house(H97F,L77F) 6pm drive all night 12.5 hours

Friday (7/22) arrive Great Smoky Mountains National Park(H86F,L64F) (most visited national park in the country)

Great Smoky Mountains National Park has a moderate climate, typified by mild winters and hot, humid summers. When planning a trip to the Smokies, keep in mind that elevations in the park range from just over 875 feet to 6,643 feet and that the topography can drastically affect local weather. Temperatures can vary 10-20 degrees Fahrenheit from mountain base to top, and clear skies at lower elevations do not guarantee equally pleasant weather on the higher peaks.
1,500 black bears live in the park, If we get there early start looking for animals. Check in at Townsend Visitor Center and get Jr Ranger book, hike trail map. Then hike to some waterfalls. Check in at Elkmont campsite #L001 after noon (Res#2-15680538). Think about visiting some historical spots and sweeping vistas. Charlies Bunion sounds good.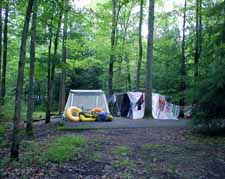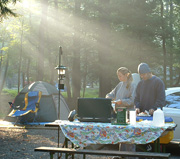 Saturday (7/23) wake up kinda early (checkout is noon) and go auto touring come back and take down camp and do more hikes, tours, rangers badges working our way east though the park (H86F,L65F). At the end of the day get in the car and drive over night 9 hours
Sunday (7/24) Arrive at Cape Lookout National Seashore (H89F,L73F) at the Visitor Center on Harkers Island. Get all information we need then take passenger ferry to Cape Lookout Lighthouse with backpacks of camping gear no vehicle. (Calico Jacks $40 round trip w/ camping gear for H, C & G, $20 Pumpkin)
(Harkers Island Fishing center, $15 Adults $10 kids under 9, not sure 1 way or round trip)
(Local Yokel $15 Adults $10 kids, roundtrip, can leave car, don't need reservation (252)-728-2759)
(others available but no prices listed, ask about place to leave car)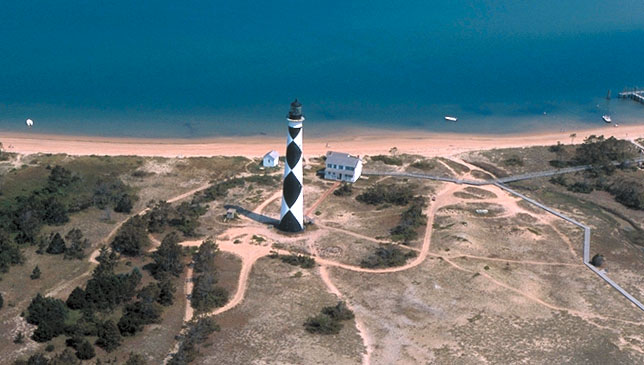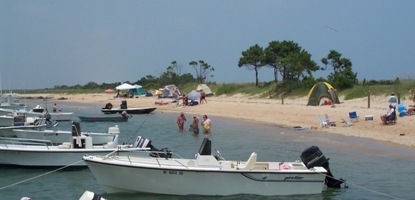 Find a spot to camp on beach $0, look for wild horses, collect a legal gallon of sea shells, swim, walk, nap, earn ranger badge. cross fingers for good weather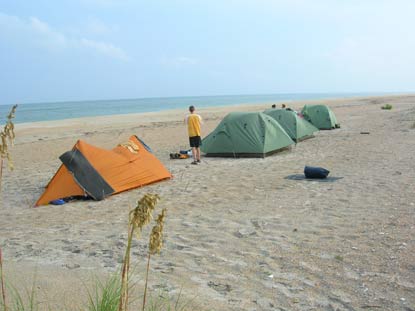 Monday(7/25) Pack up camp site and catch ferry back to car.  Drive 4 hours (or ferry 3hrs) to Cape Hatteras National Seashore (H86F,L74F)

check out wright brothers memorial, earn ranger badge, more swimming, shell collecting, car camp on beach at Oregon inlet (1st choice) or Cape Point or Frisco. Limited campsites are not reservable and cost $20.

Tuesday (7/26) wake up early and on road by 7am (or sooner) and drive 5.5 hours to Shenandoah National Park.(H76F,L57F)

Eat drive through lunch in car on way to park. Peanut work on printed off ranger badge. Follow Skyline drive through the whole park. Drive 3 hours plus times for overlook stops and hikes. Start with 1 mile hike at black rock summit. Also plan to hike 1.5 mile round trip to Dark Hollow Falls near Byrd Visitor Center, Reserved (#2-15681032) campsite C166 at Mathews Arm campground and hike to Overall Run (tallest) waterfall in the north district.
Wednesday (7/27) drive 1.5 hours to Washington DC (H89F,L71F)
tours, monuments,etc. Hotel at B/W Capital Beltway, 5910 Princess Garden Pkwy,Lanham (Washington Area) Maryland 20706-2905
Thursday (7/28) sleep in spend day in DC hotel (H89F,L71F)
Heath put in a request to take a tour of the white house, and we plan to see the air and space museum, and some other moments on the Mall.  If we get to the Washington monument early enough we can get a ticket to go to the top, and Peanut really wants to see the capitol.  Heath contacted our congressman, and the rep said it would be fine for us to swing by his office to get a tour.
Friday (7/29) sleep in past rush hour and drive 4.5 hours to Dominican Nuns (H86F,L63F)

arrive afternoon/early evening sometime?
Saturday (7/30) spend morning with nuns/Carri then day in new york (H83F,L68F)
Sunday (7/31) sleep in long then go back to New York (H83F,L68F)statue of liberty tour and earn jr. ranger badge, work on book early herehttp://www.nps.gov/stli/forkids/upload/STLI%20Junior%20Ranger%20Package%202-3.pdf
back to nuns for dinner and hang out till they go to bed. Drive 9 hours overnight
Monday (8/1) arrive early in Acadia National Park: Island off the tip of Maine (H80F,L58F)

Spend day hikes, tours, ranger badges, then camp out at Blackwoods campsite for $20 a night Reserved (#2-15299910) and Paid .

Tuesday (8/2) spend morning at Arcadia at 1pm or so drive 2 hours to Abbington's Seaview Cottage (H74F,L58F) and move into cottage #8. check in at 3pm. Reserved and Paid
Wednesday (8/3) full day and night in cabin (H74F,L58F)
Thursday (8/4) morning in cabin then check out at 10:30. Spend the rest of the day after a 3hr drive at White Mountain National Forest (H84F,L56F) hiking to waterfalls and swimming in them. look for Moose and bear.
Then a 10hr overnight drive
Friday (8/5) arrive early morning at Niagara Falls take 90E to 290W to 190N to Robert Moses State Parkway find parking and walk along side to goat island. (H81F,L58F) spend day water falls, touristy stuff maybe boat tour with Maid of Mist http://www.maidofthemist.com/en/


drive 3.5 hours to Cuyahoga Valley National park (H80,L63F) and camp out. Limited camping and unusual setup.  We have a reservation and will need to bring receipt. No firewood gathered or brought in, all wood provided and can use community fire pit. Will need to drive up to site and drop off gear then park van 1/2 mile away site should be kinda secluded.

Saturday (8/6) spend day at Cuyahoga Valley National park (H80,L63F) scenic train ride all over park ($15adults $10kids) lots of good hikes.

start drive home 13 hours maybe hotel on way

Sunday (8/7) rest of the drive home (H90F,L71F)
---
Still need to:
Find/plan things to do at each stop
parking permit at Ferry start
Find Ferry schedules for coast
Reserve hotels/campgrounds
reserve activities/tours
total up costs
---
Remember to:
bring charcoal and grill
camp stove
swimsuits
pack for backpacking/primitive camping
long tent steaks for sand